-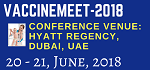 Aquilus International and Vaccinesmeet- 2018 Organizing Committee, we are delighted to welcome all the delegates and their guests to Hyatt Regency, Dubai, UAE, for the "International Conference on Vaccine Development and Trending Disease Control Methodologies" that will take place from June 20 - 21, 2018 with Theme: "An Interaction for Discussing Research and Technology towards Vaccines, Vaccinations, and Immunization for Prevention of Human Diseases ".
This conference is devoted to the science of Vaccines, Vaccinations, and Immunization for Prevention of Human Diseases and it will give participants a platform to exchange ideas, discover novel opportunities, reacquaint with colleagues, meet new friends, and broaden their knowledge. The conference will be green event towards building sustainable ;
The conference will bring together delegates from all over the world from universities, hospitals, research fields, civil societies and public authorities to explore and discuss opportunities and strengths related to novel opportunities in the field of Vaccine Development and Trending Disease Control Methodologies towards healthcare and sustainability societies. During the conference you can learn and discuss about appealing topics and through your participation, you can help develop issues to be further explored. The interactive exchange of information would also help trainees and young practitioners to improve their professional development, enrich their knowledge and increase their sense of professionalism in the field of vaccine development and ;
A vaccine is a biological preparation that improves immunity to a particular disease. A vaccine typically contains an agent that resembles a disease-causing microorganism, and is often made from weakened or killed forms of the microbe, its toxins or one of its surface proteins. Diseases are eradicated from this world using vaccination and many diseases are in process of eradication for safe guarding and providing healthier society and this requires a tremendous research and knowledge sharing. Researchers, academicians, entrepreneurs, lab technicians, physicians, students are invited to attend and register for this conference.
Read less
Return to overview